Pokebox
PRODUCT DESIGN
Keywords: Human-centered design, Hyper-Personal Prototyping, Education
GOAL
To design a tool for Christina - an apprentice/aspiring teacher, that helps engage her students in class.

TEAM
Sally Tran, Phyllis Thai, Carlos Lazo, Maggie Chen
MY ROLE
︎ Interview
︎ Exploration & Ideation
︎ Prototyping
For a New Media class that I have taken, along with a talented team of 3 students, we designed a hyper-personal object for Christina Ong, a UC Berkeley senior studying Geophysics and minoring in Cal Teach.
Pokebox
HOW IT WORKS
Christina may choose to use the tokens to symbolize class participation.
When a student answers a question, he/she receives a token.
Students deposit the token into the Pokébox at the end of the class
Tokens start to add up and fill the first tick-mark on the front of the box - Christina can then evolve the Bulbasaur into Ivysaur.
Tokens start to add up and fill the second tick-mark on the front of the box - Christina can then evolve the Ivysaur into Venusaur.
When the box is all filled up, the Pokémon has reached its final evolution, Christina can reward the students with a pizza party.
OBJECTIVE: STUDENT ENGAGEMENT
A reward system to encourage students to participate in class.
The idea is that there would be an immediate reward (egg, sound and lighting effects), and a long-term reward (evolving the pokemon) for the students (from the book 1-2-3 Magic Effective Discipline for Children 2–12).

Physical objects as a token.
From our interview with Christina, we've learned that students enjoy having a physical object to hold onto. We decided to make a box that can be filled up by tokens shaped like Pokemon eggs, which can be earned in class through activities like answering questions, handing in exit tickets, or acing a quiz/project, etc.
OBJECTIVE: PERSONALIZED PREFERENCES
Christina enjoys anime, especially Pokemon - our box is therefore Pokemon themed. We also chose the Pokemon Bulbasaur, because Christina likes the original Pokemons, and her favorite type is grass type Pokemons.

She loves cute objects, especially eggs.
She told us that she likes cute things, and she finds eggs especially cute. So we made the tokens in the form of Pokemon eggs, which also goes with the theme of evolving the Pokemon.
---
INTERVIEW
Getting to Know Christina

We designed a hyper-personal object for our client Christina Ong, who is a UC Berkeley senior studying Geophysics and minoring in Cal Teach.

We wanted to get to know Christina on a deep, personal level, and design something that will be a "painkiller" that she will love and use. We conducted a series of long interviews with her, with a specific focus on her passion for teaching, and here are some highlights of our findings:




She mentors kids on computer science as a member of an on-campus club, and she's passionate about helping and teaching kids.
She encourages group works and likes to have class/group competitions. However, sometimes she struggles with engaging students in her classes.
Having a physical object for students to hold onto as a part of a point/reward system has worked well for her.
She adores anime (especially Pokémon), cosplaying, and cute things like eggs.
IDEATION
Defining the problem space
It wasn't immediately clear to us what is a problem that Christina would like to solve at the beginning. While we were conducting the series of interviews, we also brainstormed different ideas for the object that we'd like to build - like a personalized mannequin for her to make cosplay costumes, a custom stamp for her to grade assignments, and gadgets to help her dog get on the chairs.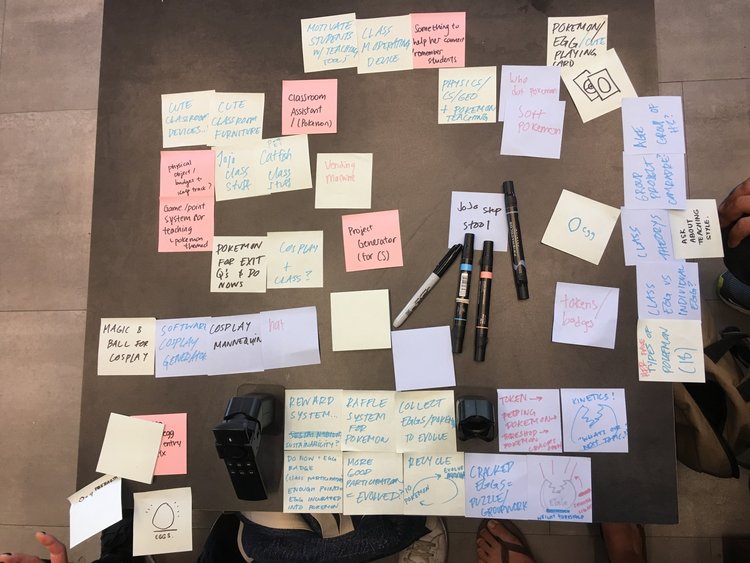 What we realized, as we drew insights from the interviews that we've conducted, is that Christina really has a passion for teaching, and she's having trouble engaging her students in her classes.

From there, we decided to make a personalized teaching tool for Christina to help her engage her students in class, facilitate student interactions and interests in the class materials, and incorporate her personal preferences to make it uniquely hers.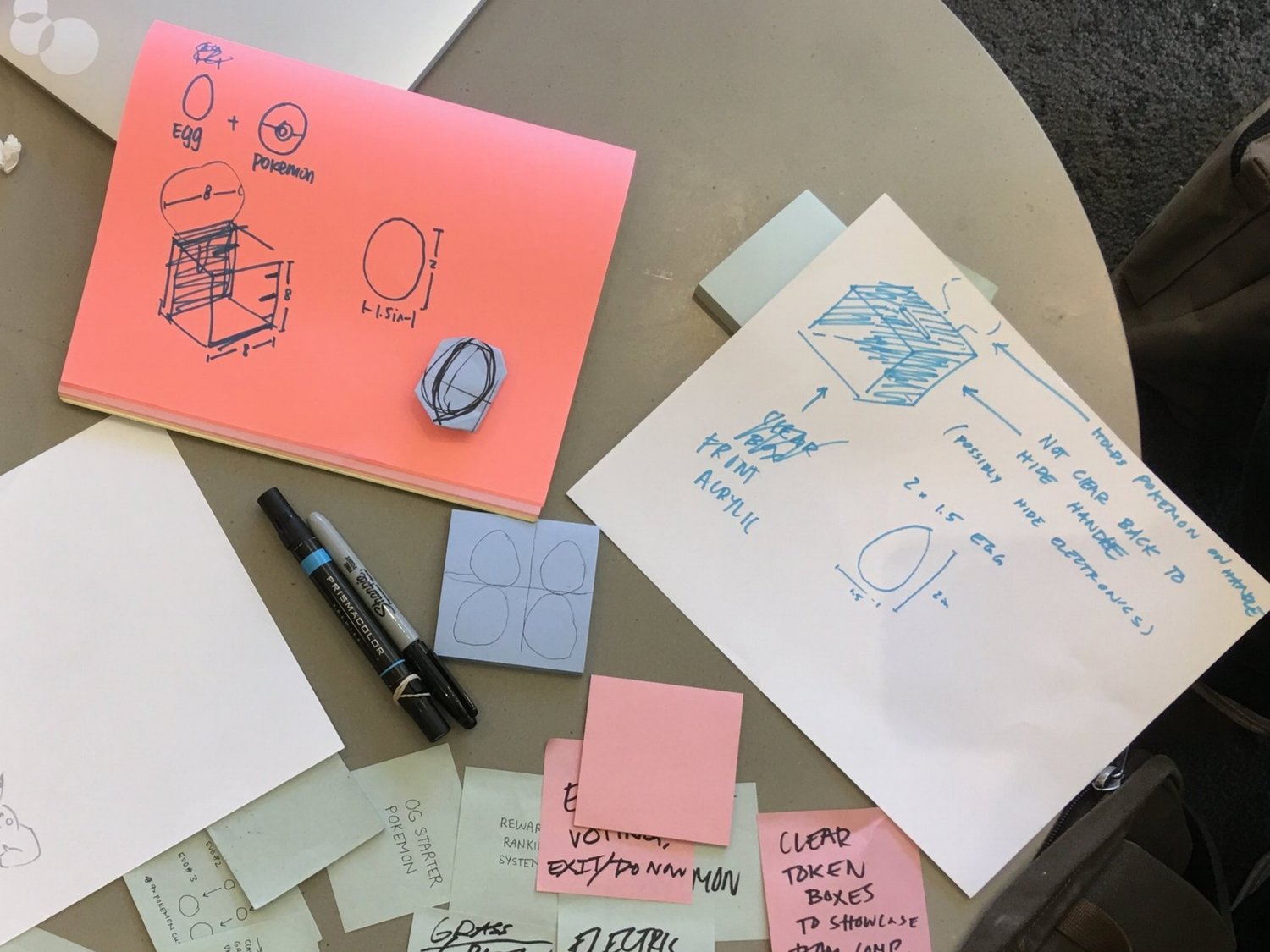 Sketches
Since our product is highly interactive, sketching helped us understand the mechanism, as we designed different components of the box.
We made multiple sketches and kept improving the design as we prototype and iterate, which also helped solidify our final prototype.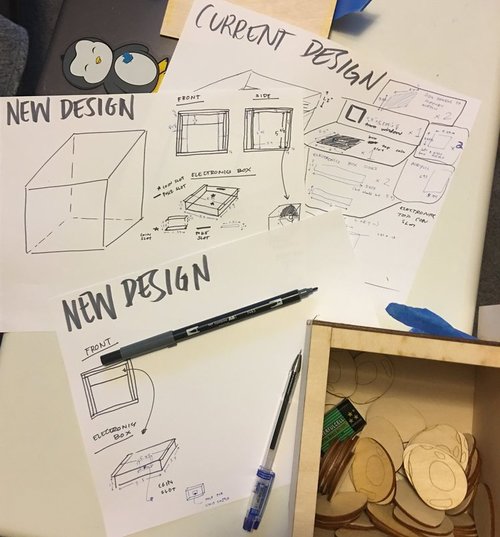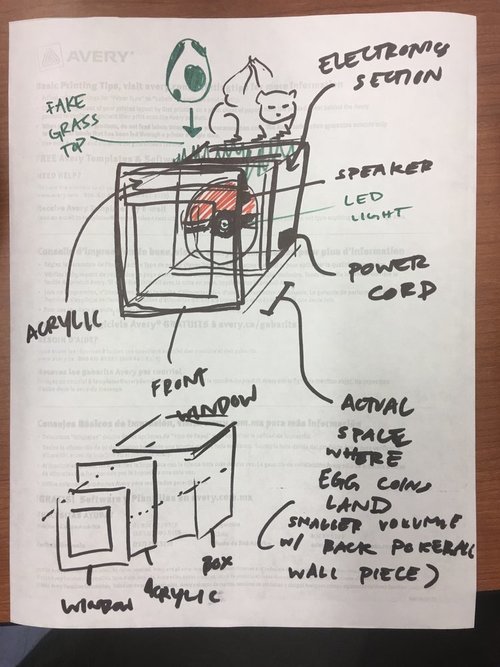 The final idea is that it'd be a Pokemon-themed, piggy-bank-like box that students can interact with in class.
The teacher (Christina) would distribute egg-shaped tokens for any student achievements, and as students earn their tokens in class, they can deposit them into Pokébox. As the tokens add up to reach a certain amount, the Pokémon on top of the box evolves. When it reaches its final evolution, Christina can then choose to reward the students.
ITERATIONS

Prototyping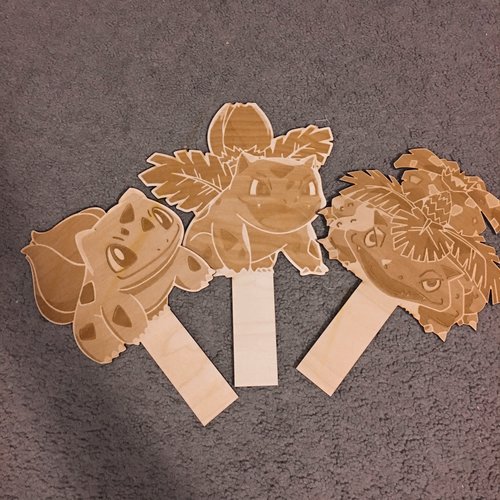 One of the important aspects of our project is a functioning prototype, and this involved an iterative process of prototyping at different fidelities.
First Prototype (low fidelity) ︎ Second prototype (mid-high fidelity)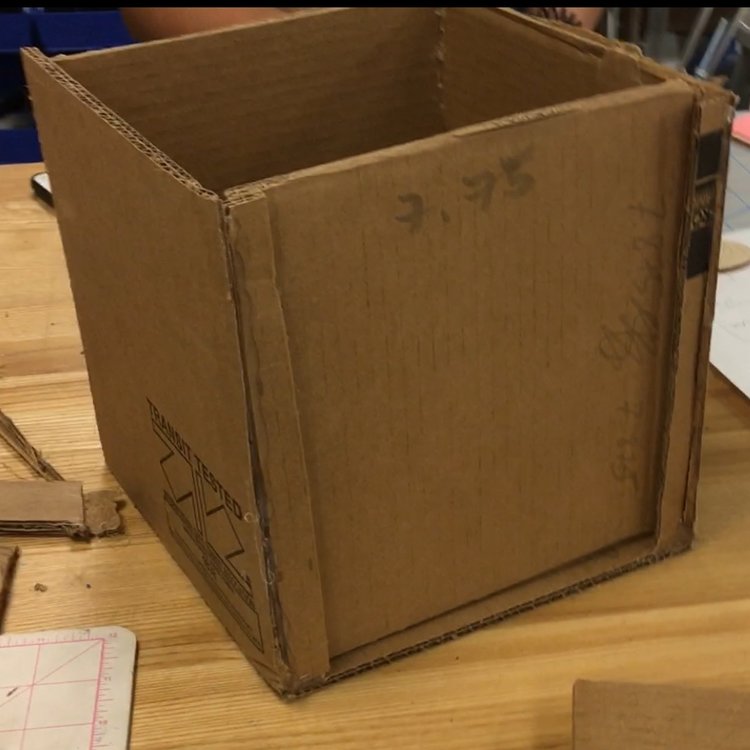 Starting with a low fidelity cardboard prototype, our team had several iterations as we improved our design. We adjusted relative sizes of each component to make sure that they'd work with each other (including a box and some electronic components), making sure that the mechanism of the teaching tool would be intuitive and easy to use, and lastly, the final product would be visually appealing to both Christina and her students.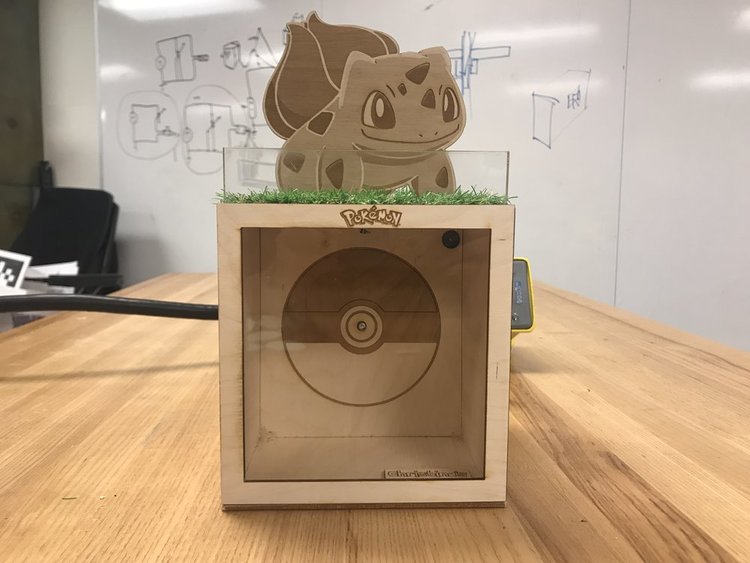 Read more about Pokebox and follow-ups from our team member Sally.